Description
DSLRs are great astrophotography cameras (even for long exposures of deep-sky objects such as galaxies, nebulae or star clusters) since they have high sensitivity and low noise, so they are able to record very weak details. Just use an equatorial mount with autoguide port and EAGLE CORE will allow you to record wonderful images of the objects of the Universe both using photographic lenses and telescopes! Thanks to EAGLE CORE, your instrument will have the high performance of an astrophotography telescope but with the portability and ease of use of a star tracker.
Compared to EAGLE2, that thanks to Windows operating system and the ability to install any astrophotography software is perfect for the astrophotographer that wants to make advanced astrophotography, EAGLE CORE is designed for those who start to do astrophotography and are searching for a very simple to use system or for those who want an easily transportable system as "travel telescope".
In order to make high quality astrophotography, connecting a DSLR to the telescope is not enough. It is necessary to be able to set and shoot the camera without touching it to avoid vibrations while recording and use the autoguide to automatically correct normal tracking errors of equatorial mounts. When using an external computer, telescope becomes complicated because of many cables or power supplies, it is less portable and it is necessary to study the capture and guide software. EAGLE CORE simplifies both your telescope and software, making your instrument easier to use and transport.
As for other EAGLE control units, EAGLE CORE is installed directly on your telescope, it powers the elements of your telescope (12V, up to 3 instruments) and it has a modular PLUS case allowing you to install it on all telescopes and to personalize your configuration as you prefer. It has also been designed to allow you to do long exposure astrophotography even with telephoto lenses thanks to a special shooting mode with the guide scope positioned at the telephoto lens side (see photo below).
In order to use EAGLE CORE together with a telephoto lens (and guide scope in parallel) you have to add "140mm PLUS dovetail bar" to be connected under EAGLE CORE body, in order to install everything on the equatorial mount. In the upper part the Eagle Core has a 1 1/4in photo thread to connect a photo ball head and then the camera. If you have an heavy photo lens (for example with focal length higher than 200mm) you can add the "PLUS Vixen??? dovetail clamp". Then you can connect the "PLUS 90mm Vixen dovetail bar" under the camera and then connect everything in the dovetail clamp. The guide scope is installed, using the optional 80mm PLUS guide rings and PLUS raisers, to be fixed on the side of EAGLE CORE.
In order to use EAGLE CORE with a telescope (and guide scope in parallel) you can connect it in many different ways and it's compatible with all the telescopes on the market: you can fix it on top of PLUS support rings (for example when you use a refractor) or you can add the dovetail clamp Vixen??? PLUS and connect to any Vixen or Losmandy style bar. Above EAGLE CORE body you can connect PLUS guide rings with guide scope (where to insert the guide camera).


WHAT YOU CAN DO WITH THE

EAGLE CORE

:


- Control DSLR and guide camera from your smartphone or tablet with a convenient WiFi connection: you will be able to see in real time pictures of guide stars or of the object recorded by your DSLR camera
- Remotely control your Canon EOS or Nikon DSLR camera: set acquisition parameters, then start capturing a single image or a sequence. These are the cameras already tested and verified with EAGLE CORE:
- Canon EOS 1000D, 1300D, 450D, 500D, 550D, 600D, 650D, 700D, 750D, 800D, 20D, 40D, 60D/60Da, 70D, 80D, 7D, 6D, 5D, Mark III, 5D Mark IV

- Nikon D3300, D3400, D5300, D5600, D7000 (D7000 can't "B" mode), D600, D610, D750, D800E, D810
- Focus your DSLR camera: thanks to a special simplified mode, you can focus on the smallest details of your image, moving the focuser manually and remotely thanks to SESTO SENSO, the robotic focusing motor (optional).
- Remotely control autoguide camera: thanks to the integrated autoguide software, it automatically corrects tracking errors of the telescope's mount (compatible with QHY5II-L, ASI120MM-S, ASI120MC-S, ASI178MM, ASI290MM, ASI290MC and Lodestar)

- Use dithering: in order to minimize electronic noise and get a better image when you stack more pictures of the same object (* feature available soon, it will be added with a software update)
- Power up to 3 devices (12V): thanks to optional cables and adapters, you can power the DSLR camera, the mount, etc directly from the EAGLE CORE eliminating the need for other batteries and other external power supplies.


EAGLE OS: INTEGRATED SOFTWARE FOR DSLR ASTROPHOTOGRAPHY


Thanks to EAGLE CORE you will no longer need a laptop: in fact it includes EAGLE OS software to control autoguide and DSLR camera. You can control all capture and guide parameters directly on the screen of your smartphone or your tablet (compatible with iOS and Android devices) connected to EAGLE CORE through the convenient WiFi connection.



POWER OUT PORTS

TO BETTER ARRANGE CABLES CONNECTED TO THE TELESCOPE


Thanks to the innovative design protected by international patent application and Italian utility model, EAGLE CORE has 3 power OUT ports that you can connect (using the optional cables) to different devices such as camera or mount. In this way you will have only one power cable to power EAGLE CORE and other devices and you will reduce not only total consumption but also the number of cables in your instrument. You can also use the optional "Eagle-compatible power cable for Canon EOS and Nikon DSLR camera" to power them from EAGLE CORE (removing the battery you will no more have problems with batteries running out of charge during capturing!).



DESIGN

: INNOVATION IN A COMPACT AND LIGHTWEIGHT DEVICE


All the incredible features of EAGLE CORE are enclosed in a compact, lightweight device with the great PrimaLuceLab design. EAGLE CORE case is made of aluminum blocks that are high precision CNC machined. The aluminum is then sandblasted to achieve a very smooth surface finish and is anodized (hard anodizing) to increase the hardness of the material and protect it from oxidation. EAGLE CORE weights only 520 grams so it does not add too much weight on your telescope mount and allows you to create an incredibly portable setup. All in a device 17cm long, 8cm wide and just 3cm thick.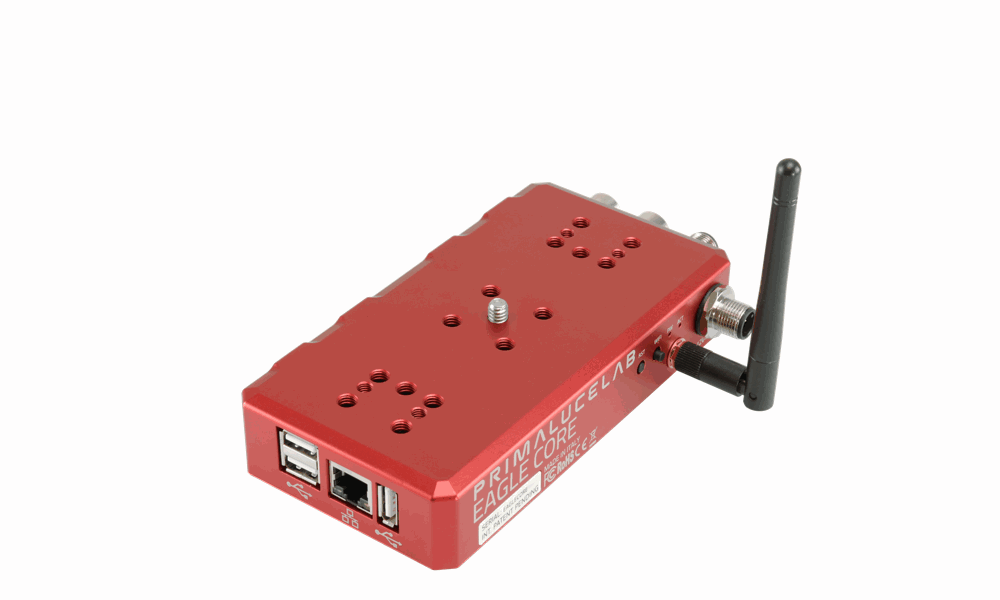 Using the autoguide feature of EAGLE CORE, classic tracking error of the equatorial mounts are corrected: in the image below you can see how a 300 seconds exposition picture recorded at 200mm focal length shows stars not well tracked if the autoguide is not activated (left) and perfectly tracked when we use the autoguide (right).
EAGLE CORE comes with an astrophotography introduction user manual (in english and italian) that not only shows how to use EAGLE CORE but also teach the basics of astrophotography like how to properly set the equatorial mount, what is the autoguide and how to set it properly, why stacking more pictures together, etc. For esample, here you have part of the user manual:
Introduction to astrophotography with DSLR and mirrorless cameras
Planetary/lunar and deep-sky astrophotography
Astrophotography with telephoto lens or telescope?
Mount and sky objects tracking
Connecting DSLR or mirrorless camera to telescopes
Before starting to photograph: light pollution and power
Start taking pictures, step by step guide

Step 1: align the mount to Pole
Step 2: align the mount to the stars
Step 3: point the object to record
Step 4: focus DSLR or mirrorless camera
Step 5: start the autoguide
Step 6: advanced autoguide settings (optional)
Step 7: record pictures with DSLR or mirrorless camera


Eagle Core -

Scope of delivery

:



-Eagle Core control limit
-Power cable with cigarette plug for Eagle (length 6.5 ft.)
-4 M6x8 screws, 4 M6x12 screws
-User manual with introduction to DSLR Astrophotography (English and Italian language
M31 galaxy recorded with unmodified Canon EOS 7D, 200mm f/4 telephoto lens and EAGLE CORE, sum of 6 expositions 300 seconds each.
North America nebula (NGC7000) recorded with unmodified Canon EOS 5D Mark III, AIRY APO65F refractor and EAGLE CORE, single 450s exposition.
Omega Centauri (NGC 5139) star cluster recorded with Canon EOS 60Da DSLR, OfficinaStellare Hiper APO 105 refractor and EAGLE CORE, sum of 18 pictures 180 seconds each. Recorded by Cory Schmitz, Photographingspace.com.
Payment & Security
Payment methods
Your payment information is processed securely. We do not store credit card details nor have access to your credit card information.
---
Security
Damages:
Please inspect the packaging of your item(s) when they arrive, if you notice any damage you should make note of it when signing for delivery.  If your item(s) do arrived damaged, please send photos to support@hyperion-astronomy.com and we will process an insurance claim on your behalf and refund the item.
Cancellations & Refunds:
All orders cancelled after 48 hours are subject to a $20 administration fee, whether or not your order has shipped.  If you order has shipped, you (the buyer) will also be responsible for actual return shipping charges. Refunds will only be issued to the original credit card that you use when placing your order.  
Easy Returns...How They Should Be
We stand behind every product we sell and offer a 30 day return policy. If you would like to return your purchase for any reason within 30 days, you will be refunded the purchase price of the product. Because we offer free shipping please be aware that if you return one of these products our actual outbound shipping charges will be deducted from your return refund. All product(s) must be returned in their original condition, including the original packaging, manufacturer's containers, documentation, warranty cards, manuals and all accessories. Otherwise additional charges may be applied or may make your product(s) nonreturnable. Hyperion Astronomy sells products from some manufacturers that are custom made or made-to-order. These products are non-returnable and non-cancelable once the order has been placed and this is notated on the product page for these items. 
Products Not Eligible For Return
- Custom orders (i.e. products that are custom made or made-to-order).
- Special purchases including: clearance products, inventory sale products, custom quotes, special discounts, etc.
- Any product that has been assembled, installed, modified or used in any way.
- Any product that is not in resalable condition.
- Any product not accompanied by a Return Merchandise Authorization Number (RMA#) issued by www.little-lona.com
- Any product that is not in the original box with sufficient packaging materials.
Credits will be issued after the warehouse receives, inspects and process' your return, which can take up to 7 Business days. Return shipping charges and re-stocking fees are not refundable. Shipping charges and factory re-stocking fees will be deducted from the total refund amount. You will receive a confirmation email when your return has been processed. Refunds will be credited to the original payment method and can take up to 72 hours to reflect on your statement.
Should you have any questions always feel free to call us at 1-480-493-5089 or email us at support@hyperion-astronomy.com.  Please contact us at support@hyperion-astronomy.com within 30 days to begin the return process.  Hyperion Astronomy accepts returns within 30 days for defect in product(s), wrong item received, and change of mind. 
We work very hard to ensure that we offer the absolute best prices online.  If you find another online store that offers a lower price then us within six months of your purchase date please let us know and we will refund your original payment for the difference.  We want you to feel confident that you are getting the absolute best price for the product you are ordering.  If you find that our own website has a lower price for the same item you have ordered within six months of your purchase date will refund the difference as well.
To request your partial refund simply e-mail us a link to the same product on our website, or on our competitors website within six months from the date of your order and we will process the credit accordingly.
Our 100% Price Guarantee has some limitations:
You must purchase the item from our website before requesting your Price Match Guarantee

Promotions such as rebates and buy one, get one free offers are not eligible

The item must be in stock on the competitors website

The competitor must be an online store, they may not have a retail location

The website can not be a discounter or auction website (ie; eBay, overstock, etc..)

The competitor must be an Authorized Retailer of the product in question

The Price Match Guarantee includes the item price and the shipping charges, it excludes sales tax